"Believable dialogue and lively characters. There are nice touches of humour, too."

Historical Novel Society
A delicious Regency tale of misunderstandings, intrigue and hidden love.

The death of her parents has more than the usual devastating consequences for Sarah Davenport. She swiftly answers Lady Templeton's advertisement for a companion and, deemed too young for the role, finds herself instead the governess to Lady Templeton's great-niece.
Trouble looms with the return of the children's guardian, James, Lord Randall, who is angered to find the children are having fun under the outspoken rule of their new governess.
Discovering that she is the target of tutor Mr Haversage's unwanted attentions is bad enough. Worse still, Sarah realizes that she is irresistibly drawn to Lord Randall, who has made it quite clear that he desires a quiet, biddable girl for a wife.

UK Hardcover ISBN 0 7540 4813 6
UK Softcover ISBN 0 7540 4814 4
US Softcover ISBN 0 7862 3959 X
It is the winter of 1793, and when Marianne Travis finds a man caught in a mantrap on a neighbouring estate she is determined to put an end to such cruel ways. She pays a visit to Lord Ravensford, the estate's new tenant, and to her relief she manages to persuade him to have the traps removed.
But her relief is short-lived. Marianne's brother is missing, and added to that, she begins to realize that Luke, Lord Ravensford is much more than the wild rake he seems.
When she discovers that her brother is caught up in the events of the French Revolution, she must join forces with Luke if her brother is to survive.
Only then does she begin to acknowledge her feelings for Luke. But she has no idea if her feelings are returned . . .

UK Hardcover ISBN 0 7540 4893 4
UK Softcover ISBN 0 7540 4894 2
US Softcover ISBN 0 7862 4225 6



Madeline Delaware needs to escape from her dissolute uncle, and Philip's offer is her only hope. But the six-month marriage turns out to be far from the peaceful interlude she has envisaged. Who is the beautiful Miss Letitia Bligh, and is she really as well disposed towards Madeline as she seems? What lies behind the mysterious break-in at Philip's London home? Why is his coach attacked as he and Madeline travel to his Yorkshire estate?
And why, when the marriage is simply a convenient arrangement, does Madeline find it so difficult to think of its end?


Published by Thorpe in hardback only, ISBN 0 7089 4843 X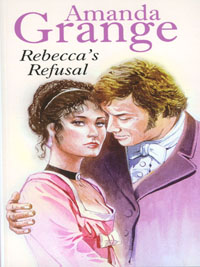 Rebecca's Refusal
"There is plenty in this book to enjoy; the images of both Manchester and London, complete with Frost Fair, the rivalry between Rebecca and various other girls as they try to catch (or avoid) Joshua, and the glittering assemblies they all attend. Some Regencies are thin on this sort of description but not this one . . . If you want a nicely crammed Regency (and I certainly do) bursting with descriptive passages, action and general bustle then this is it."

Rachel A Hyde, MyShelf.com

A delightful Regency set against a backdrop of glittering balls, rebellious Luddites and London's Frost Fair. Miss Rebecca Fossington has no intention of marrying for the sake of her reputation, so when Mr Joshua Kelling unwittingly compromises her she refuses his hand. But on discovering that her grandfather has made them joint owners of a cotton mill she is forced to realize they have more in common than she supposed. Mysterious accidents follow, culminating in an attempt to burn down the mill. Who is responsible? Can the culprit be discovered? And will Joshua ever propose to Rebecca again?
Click here for an extract.


UK Hardcover ISBN 0 7540 8895 2 UK Softcover ISBN 0 7540 8896 0 US Softcover ISBN 0 7862 3722 8

Marriage at the Manor

A sparkling Edwardian romance
It was bad enough that Miss Cicely Haringay had to sell the Manor. It was even worse that she had to sell it to a city gentleman! Cicely was determined to dislike the new owner, but when circumstances forced her to take a job as his secretary her feelings began to change. Alex Evington was handsome, charming and . . . a mystery. Why had he really bought Oakleigh Manor? What were his motives for hosting a sparkling house party there? And why did Cicely feel drawn to him, when his feelings for her were so impossible to understand? Click here for an extract.


UK Hardcover ISBN 0 7540 8986 X UK Softcover ISBN 0 7540 8987 8 US Softcover ISBN 0 7862 5419 X REVIEWS "Robert Hale keeps UK romance fans well supplied with the sort of light, frothy romances that make the genre so enjoyable amd this one, set during the Belle Epoque, as an alternative to the invariabe Regency, is no exception." Rachel Hyde, My Shelf
"Cicely and Alex meet in an amusing contretemps that sets them brangling with each other, even before they know each other's identities..MARRIAGE AT THE MANOR is a light, enjoyable read."
Jane Bowers, Romance Reviews Today